From the Shelf
Board Books: Making Things that Go
Tractors, jets, space shuttles... all come from engineers. And where do engineers come from? Babies, of course!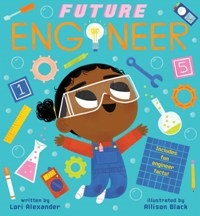 In Lori Alexander and Allison Black's Future Engineer (Cartwheel Books, $8.99), pre-readers ages 0-3 are told to "Flip a switch. Turn a gear" then asked, "could Baby be an engineer?" Engineers ask questions, want to know how things work and search for answers--so do babies! Adults of varying races and genders complete engineer-type tasks on the left-hand pages and babies of different genders and races take part in corresponding activities on the right: building blocks, asking questions (with a sock as a hat) and drawing on paper "and other places, too."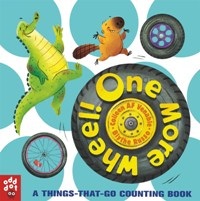 Some vehicles baby might someday help make are shown in One More Wheel! (Macmillan, $12.99) by Colleen AF Venable and Blythe Russo. To get babies into a wheel state of mind, the cover offers three wheels for baby to spin. Inside, a crocodile and a beaver begin to one-up one another, each riding out a vehicle that has "One MORE wheel" than the last. Eventually, the book displays a unicycle (1), racecar (6) and jet (7), it ends with "ALL THE WHEELS": a final page with a pull tab that extends to show a train carrying every vehicle previously displayed (roller skates and wheeled office chair included).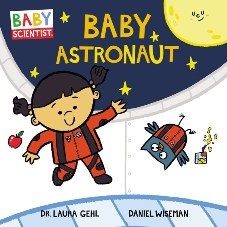 What else can engineers do? Create space shuttles and even go into space themselves. In Baby Astronaut by Laura Gehl and Daniel Wiseman (Harper Festival, $8.99), the title hero "flies way up high, above the clouds and into space." Once in space, she checks on science experiments, goes on space walks and sleeps strapped to a wall. "Night night, Baby Astronaut!"
--Siân Gaetano, children's and YA editor, Shelf Awareness

In this Issue...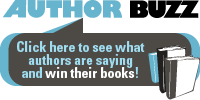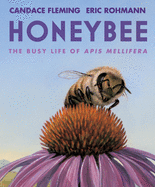 The short but busy life of a honeybee is documented in this dazzling picture book.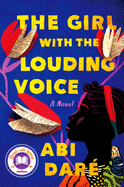 A winning young narrator pursues her dream of education and leaves her small village for the bustling city of Lagos in Nigerian-born author Abi Daré's debut novel.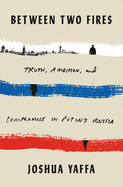 Between Two Fires is a fascinating depiction of the compromises people make under Russian authoritarianism.
Review by Subjects:
Fiction ⋅ Mystery & Thriller ⋅ Romance ⋅ Business & Economics ⋅ Political Science ⋅ Parenting & Family ⋅ Children's & Young Adult

Book Candy
How Classic Books Might Smell
"What should classic books smell like?" Electric Lit wondered.
---
Reese Witherspoon is hiring a librarian for her book club, Southern Living reported.
---
Mental Floss collected "20 memorable Virginia Woolf quotes."
---
Russia Beyond wondered: What would Dostoyevsky say on social media?
---
The Globetrekker bookcase "is inspired by an original trunk from 1914 that Timothy Oulton discovered at an antiques market," Bookshelf noted.

Great Reads
Rediscover: Mary Higgins Clark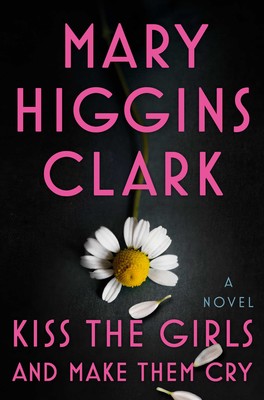 "Queen of Suspense" Mary Higgins Clark died on Friday at age 92. In a career that lasted 45 years, she wrote 56 books, all bestsellers. They were mostly suspense novels, some written with her daughter Carol Higgins Clark and others with crime novelist Alafair Burke in the Under Suspicion series. She also published a memoir, Kitchen Privileges, and several children's books. More than 100 million copies of her books are in print in the U.S. alone. Clark acknowledged having a formula. Speaking with CNBC, she said once, "In my case, it's always a woman, a young woman. Smart, intelligent, and something happens. She's not on the wrong side of town at 4 in the morning. She's living her life and something crosses it. And by her own intelligence, she works her way out of it."
Clark's lifelong dream was to be a published writer, and after being widowed at age 37 with five children, she wrote at her kitchen table each morning before commuting into New York City for her job. Her writing career started in 1975, when she was nearly 50 and published Where Are the Children?. Among her best-known books are A Stranger Is Watching; The Cradle Will Fall; Loves Music, Loves to Dance; Let Me Call You Sweetheart; and Daddy's Gone A Hunting. Her most recent book, Kiss the Girls and Make Them Cry, appeared last November (Simon & Schuster, $26.99, 9781501171703). Last month, Shelf Awareness published a Reading With... column with her.

The Writer's Life
Abi Daré: The Power of Haunting Questions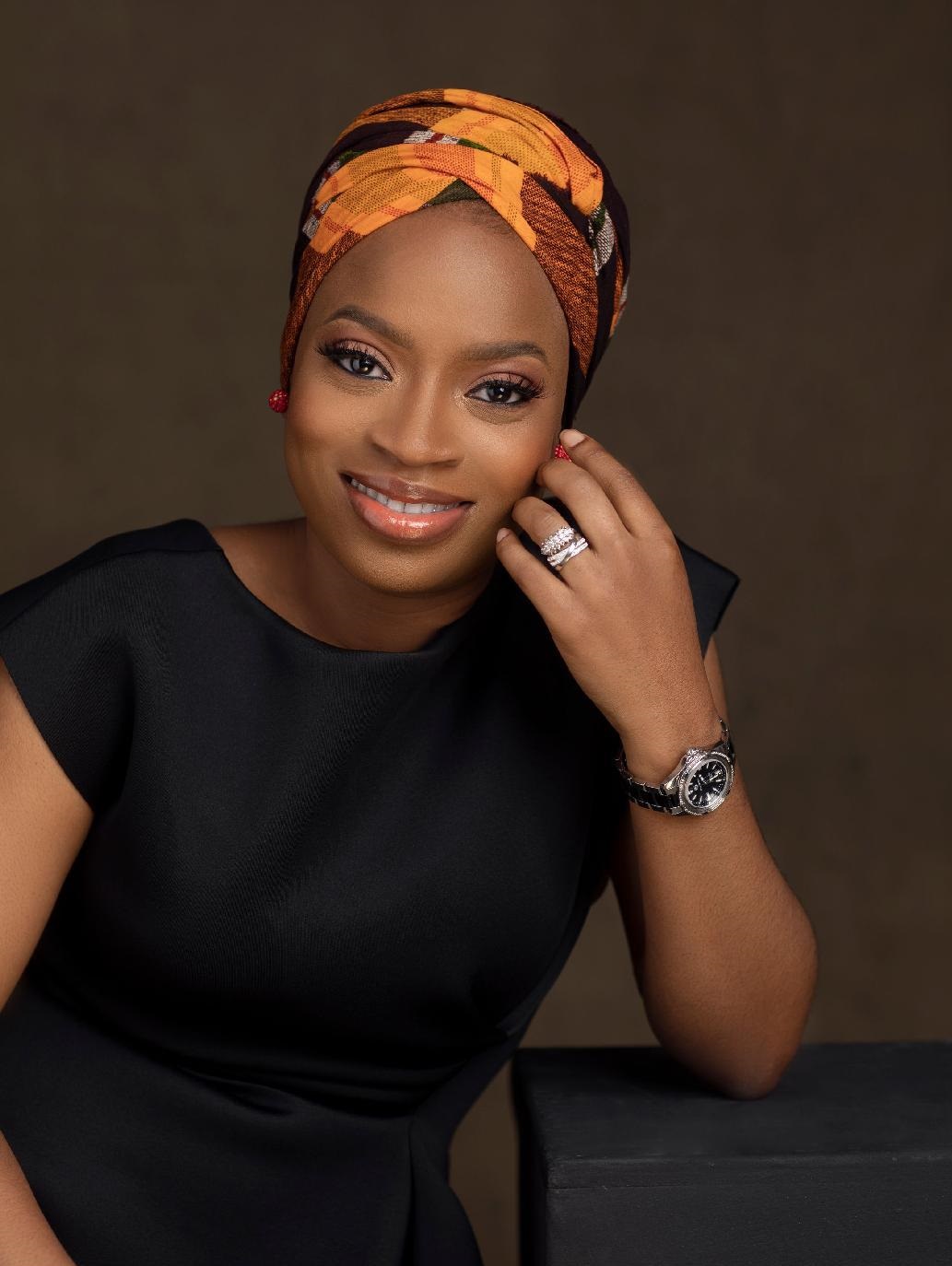 photo: Gazmadu
Abi Daré grew up in Lagos, Nigeria, and has lived in the U.K. for 18 years. She studied law at the University of Wolverhampton and has an M.Sc. in International Project Management from Glasgow Caledonian University, as well as an MA in Creative Writing at Birkbeck University of London. Her debut novel is The Girl with the Louding Voice (Dutton, $26; reviewed below). Daré lives in Essex with her husband and two daughters.
Can you talk a bit about the origins of The Girl with the Louding Voice?
I grew up in a middle-class neighborhood in Nigeria where many families employed maids. These were mostly young girls, many of whom were sadly ill-treated and uneducated. As a child, I had questions I could not voice--why were some of these girls not allowed to sit at the dining table, or watch TV, or go to school? Why were they cooking and cleaning and serving families at such a young age? My questions, unanswered, followed me out of Nigeria and remained buried somewhere within me as I went about my life, settled in England and had my own family.
When my daughter turned eight, I recall asking her politely to help with some house chores. She responded with a series of moans and a barrage of excuses. I recall asking her a question that became a defining moment for this book: "Do you know that there are young girls like you probably working for families like mine in Nigeria?" At my daughter's shock, and keen interest as to why a girl of eight would be working as a maid, all the questions I'd had as a child resurfaced. That night, I started my research. I discovered that young girls were still being employed as maids, still suffering abuse. I came across a newspaper article: a 13-year-old had been scalded with boiling water by the woman who employed her. It wasn't just the horrific injuries that got to me. It was also the fact that the newspaper hid her face with a block of black ink.
They were trying to protect her identity. But it felt like a deliberate act to disconnect her from the world. It seemed to say: here is a nobody. An unknown. Another statistic to report. My conscience burned. I began to wonder, who is the maid in this article? Does she have a family? What are her hopes and dreams? The Girl with the Louding Voice was born out of my desire for answers. I wanted to tell her story. Most importantly, I wanted to do so in her own voice.
Tell us about how you discovered Adunni's voice. You set the tone with that first paragraph. Her sense of humor and her intelligence shine through so that you let readers see what a natural-born teacher she is.
I'd like to say that I planned her voice--and that I had an idea of exactly how she would sound, and what she would say, but Adunni's voice came to me in a moment following a period of slight desperation. I was due to visit my supervisor to discuss my MA dissertation. And while I had decided to write a book about a housemaid who lived in rural Nigeria, I had no clue of how to form my ideas and research into a story that was worth telling. I also needed to send him 3,000 words of my work in progress as a basis for any conversation. The evening before my deadline, in a state of utter panic, I sat down in front of my laptop and wondered what she would sound like--and then, I heard it. Her voice.
The first line of the book dropped into my spirit--and that was it. The rest of the book built upon that foundation and evolved from an infusion of a number of sources: Nigerian slangs, words from my then two-year-old who was just discovering how to speak, literal translations from Yoruba into English. I also drew inspiration from the many housemaids I encountered over the years, from listening to interviews and watching Nigerian movies, from reading excellent books that had been written in non-standard English.
Adunni needed to have a sense of humor and intelligence to balance out the heavy themes the book addresses--and I'd like to think that she demanded for it to be this way. I discovered a lot about her as I wrote. She felt like a living, breathing character who was sitting in front of me, arms crossed, deep frown on her face or sometimes laughter, demanding what would happen to her and how she would react. In many ways, she was and still is, a force unto herself.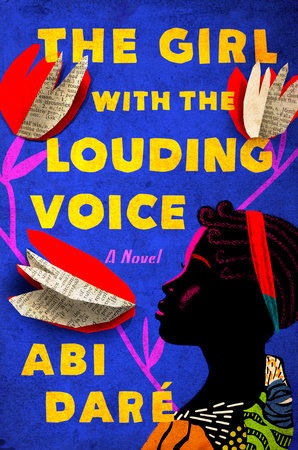 Adunni faces so many setbacks--the loss of her mother, her father taking her out of school and then "selling" her to Morufu. How did you balance her sense of hope against these terrible odds?
Very early on in writing the book, as the struggles in Adunni's life started to unfold, it was absolutely important for her to have a sense of hope--and to hold on to that hope because it is who she is, and what I hope that every young girl who has suffered setbacks in life has, or will try to have. It is what I found as a writer, and what I hope my readers will find and connect to in her story. Adunni as a character is eternally optimistic, she believes in the ultimate good of all humans and this feeds into how she manages life. She has been taught by her mother that there is a lot of good in being good, and as she navigates one setback to another, she realizes that each is a stepping-stone to bring her closer to winning.
Adunni's mother tells her, "Your schooling is your voice, child." And Adunni wants "a louding voice." This is bittersweet, since Adunni's mother loved an educated man whose family rejected her because she was uneducated. Would you say education is valued in Nigeria today?
Nelson Mandela once said, "Education is the most powerful weapon which you can use to change the world." I couldn't agree more. Many Nigerian families value education so much that attaining a bachelor's degree in university is celebrated as a minimal achievement--an essential first step for many more degrees. Many jobs require extensive education over experience, with a master's degree as a minimum criterion. As there aren't enough jobs, it proves impossible to find a good job without an education. Education is also linked to social status--many families would refuse marriage on the basis of lack of education. It isn't uncommon to find people including their education achievements in their signatures as a way of signing off on e-mails and such correspondence.
Adunni's mother makes sure Iya, their elderly neighbor in the nearby village, always gets something to eat, and Iya finds a way to repay that kindness. Morufu's second wife, Khadija, and Adunni look out for each other. Yet when Adunni gets to Lagos, the wealthy women do not look out for each other; they compete with one another. Can you talk about that? Does money change the dynamic between women?
There is an obvious class divide in this story. The women in the village who are poor mainly look out for each other, and preserving that relationship is what matters most to them. As Adunni leaves the village and moves to Lagos, she experiences the widening chasm between the rich and the poor and cannot understand how both can co-exist in the same plane. The women in Big Madam's life are materialistic as a reflection of the choices [Big Madam] makes in her friendships. She is a competitive woman, striving to make more money, to stay married and have a successful home so that she can outshine her friends--and so she finds and keeps friends that feed on such things.
Yet even the wealthy women like Big Madam are second-class citizens to men--just like the women of Adunni's village.
In many parts of the world, women are marginalized. Nigeria is no exception. There is a common misplaced belief that the woman's place is either in the kitchen or in the bedroom. As [part of] a deeply patriarchal society, where there has historically been a lack of provision of adequate education and skills acquisition programs for the woman, starting from when she is a girl through to adulthood, I find that a woman struggles to become all that she wants. She ends up being wholly dependent on her husband or father or brothers, and her choices and dreams are thus relegated. Educating the girl child has untold advantages but once this opportunity is denied, or reduced, the woman and the world around her suffers. In any society where patriarchy is the order of the day, a woman like Big Madam--with her financial power and social standing--is not enough by herself. She needs the man to validate her existence.
Will there be another book about Adunni? You leave her in a hopeful place, but there's still so much to come in her life.
I would like to think that if Adunni wants to be written about again, she would barge her way back into my head and refuse to let go until I listen to her. I would certainly love to work on her again, but she calls the shots, so I'd wait patiently to hear from her.
Book Reviews
Fiction

Dutton, $26, hardcover, 384p., 9781524746025
W.W. Norton, $25.95, hardcover, 272p., 9781324005230
Europa Editions, $18, paperback, 304p., 9781609455675
Harper, $27.99, hardcover, 368p., 9780062908568
Mystery & Thriller
Graydon House/Harlequin, $16.99, paperback, 336p., 9781525809781
Pegasus Crime, $25.95, hardcover, 352p., 9781643133218
Romance
Kensington, $15.95, paperback, 336p., 9781496731029
Business & Economics
Metropolitan Books, $28, hardcover, 320p., 9781250173515
Political Science

Tim Duggan Books, $28, hardcover, 368p., 9781524760595
Parenting & Family
Houghton Mifflin Harcourt, $25, hardcover, 272p., 9781328593122
Children's & Young Adult

Neal Porter Books, $18.99, hardcover, 40p., ages 6-9, 9780823442850
Balzer + Bray, $19.99, hardcover, 448p., ages 14-up, 9780062937049
--- SPECIAL ADVERTORIAL OFFERINGS ---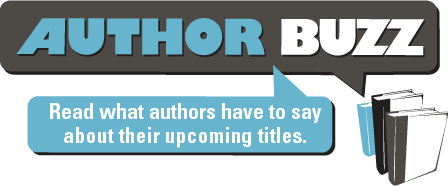 Dear Reader,

Sometimes it feels like I've been waiting to tell JT Malone's story forever. He's been around the Masters and Mercenaries universe for several years, but I never found the right heroine for him. Until Nina Blunt came along. She's a no-nonsense Brit who can take care of herself. But it's so much nicer when JT takes care of her. I hope you'll enjoy this fun adventure!

Love, Lexi
www.1001darknights.com/authors/collection-seven/lexi-blake-charmed
www.lexiblake.net

Please write to 1001DarkNights@gmail.com to enter to win one of five copies.




Publisher:
1001 Dark Nights Press

Pub Date:
June 23, 2020

ISBN:
9781951812003

List Price:
$2.99

Dear Reader,

In the small city of Denton, Pennsylvania, an infant has gone missing. Chief of Police Josie Quinn launches a desperate search for the newborn. Then her fiancé disappears. The only clue to either of these abductions is a mystery woman who remembers nothing...not even her own name. Josie has her work cut out for her in this twisty USA Today bestseller!

I'm giving away 5 copies. Please email me at lisareganauthor@hotmail.com to enter!

Lisa Regan
www.lisaregan.com




Publisher:
Grand Central Publishing

Pub Date:
May 5, 2020

ISBN:
9781538701232

List Price:
$12.99
---